First Band 
Ray Bonneville, Copyright 2022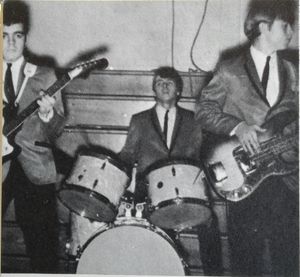 Cutting southwest in broad daylight on Highway 81, through south-of-Roanoke country, a big doe jumped out of the trees and came across the highway reckless in front of me. I barely missed her and was pumping adrenaline. I pulled over to gather myself. I had a few hours before sound check at a gig down the road someplace, so I dropped into a café at the next exit. The sultry lady brought me coffee black like I ordered. I sat looking out the window at the road and the field beyond. My mind wandered back in time. 
Through the open dormer window of the third-floor room I share with my brother, I hear the heavy white Mercury station wagon my father drives, as it pulls into the gravel driveway. His presence in the house spells tension and stress. 
Photo: Ray's first band in 1965, The V.I.P.s
I pick up the acoustic guitar my mother gave me, hold it close to my body and hit an E chord. I lean down and put my ear right up against the curving side-wood and hit the chord again, harder, thrilled by the sexily complex overtones. I'm proud of the aged, spiderweb finish and the cigarette burn between the bone nut and the first tuning peg. 
These days I lose myself in forty-five rpm records. Roy Orbison's "Dream Baby," Ricky Nelson's "Hello Mary Lou" and "Travelin' Man, Elvis, Jerry Lee and Duane Eddy's "Rumble" shake me up. As time goes by, Manfred Mann's "Bring It to Jerome" hooks me. I can't get enough of "She's Not There" by the Zombies and "You Really Got Me" by the Kinks. "House of the Rising Sun" by Eric Burton & the Animals shines a vague light into the future. 
Somehow, a band forms with my brother and two other guys from school. While my brother plays killer down-stroke rhythm guitar, I play some lead guitar and sing some of the songs. I sing "Shout," by the Isley Brothers. In the middle I tell a made-up story that builds from a quiet groove to frantic — different every time. 
I'm fifteen, going on sixteen years old. Our band starts making a little coin on weekends, playing frat house parties throughout New England. We're too young to play in bars. 
We go down the road in a long two-tone green 1957 Cadillac ambulance that sways in a bossy manner going around turns. It's got a big V-8 motor, a disabled siren and bullet-shaped red light on the roof, mirrors you can adjust from the inside and those blunt-looking taillights in the back. Being sixteen with a driver's license, my brother does the driving. 
It's Friday up in Burlington, Vermont, and we are all talking at once. 
"So where is this place?" my brother asks. "Reeves said it was on this street and in this row of frat houses. It's called Delta something." 
"Yeah," I reply. "It's good these gigs Reeves gets us, but I get tired of his bullshit — sending us out under different names he thinks up. He says The V.I.P.s is an alright name, but it doesn't have enough punch for him to sell." 
"Mr. Reeves can kiss my ass!" the other singer says. 
Tonight, we're the Thunderclouds. 
"Okay that's got to be it up there," we all agree. "Two houses up where those guys are unloading kegs from that pickup. Let's get our gear inside and get set up. Hey, there are probably going to be some older women in there tonight, some even nineteen and twenty years old!" 
We start playing. I dig my fingers into the strings to make them bend in the rawest way I know how. We lay down our young law and there's nowhere else I want to be. This freedom from the darkness at home will not be denied. 
The last part of the night finds us beer-soaked and wild, shelled peanuts and empty beer cups on the floor all around. Everybody is shit-faced. 
As we're loading up after the gig, the other singer is caught putting an armful of stolen clothes into the ambulance and gets punched out by a big frat guy. I've already snagged and stashed some bottles of hard stuff. 
The next day, my brother loses control of the ambulance, sending us off the shoulder and into a wide ditch up Vermont way. Something breaks in the front end, and we are screwed. We get out and walk around the Caddy. Thinking about the liquor we're carrying. I throw the bottles into the bushes. 
We're standing around the fiasco when a police officer pulls up. His face is ruddy, and he's got a long nose. He looks us over and says, "Now what in the hell have we got here?" 
We tell the big man what happened and that we need a tow truck. He walks around the ambulance shaking his head. He catches me glancing at the bushes, then walks over there and fishes out the bottles. 
He looks us over and says, "I've been doing this since before you were born. Who's the leader of this brilliant crew?" We all look at our shoes. One by one he empties the bottles onto the rough, grassy ground. 
"I've seen a lot of things, but never have I witnessed such an outlandish circus. I can't wait to tell my wife about this when I get home," he says. Then he walks back to his cruiser, calls a tow truck and pulls away. 
For another year, and under our own name, we work dances, skating rinks, and wherever they'll have us. I'm now in the eleventh grade and couldn't care less about school. I only want my Silvertone guitar, the band, a girlfriend and fishing. 
I don't know how to act and am nervous around girls. Being in a band allows my awkwardness to stay undercover. Somehow, I get a girlfriend. She and some of her friends come around to our band practices in the drummer's basement. When she's there, I play flashy as I can, then glance over at her. 
Some nights my brother and I do what we call 007. After our parents go to bed, we sneak out the third-floor dormer window, stupidly walk the roof's edge to a tall tree and climb down. I go to see my girlfriend and he goes to see his. Mine lives about a half mile away. Her father's name is Big Frank. He could crush me with one hand! 
I throw pebbles at her window until she sneaks out to lay with me under a tree in her back yard. We make clumsy, young attempts at love until the break of dawn, then I walk home with an ache in my groin and all sticky down there. I climb back up the tree and in. I fall asleep in class. My grades are bad news. 
I smoke Camel straights or Lucky Strikes, drink whisky and beer and get into trouble with the juvenile law for petty stuff. Officer Nash tells me I'm going down the wrong road. I try not to laugh. 
l get expelled for a long list of rebellious idiocy. I score a job at a tree nursery, but they fire me for sleeping on the job behind some boxes at the end of one of the greenhouses. 
Knowing I have no money, my father tells me he can't have me in the house anymore unless I pay rent. He tells me I'm setting a bad example for my brothers and sisters. He says, "I don't think you even have the balls to join the army!" 
A few days later I come home with papers from the Marine Corps recruiting office for him to sign, because I'm still only sixteen years old. If he signs, I'll be off to boot camp at Paris Island, South Carolina as soon as I turn seventeen. 
A little over a year later, I step off the lowered tail end of a C-130, into the hot bad breath of the Vietnam War.